Elegance is not necessarily a symbol of austerity, indeed! It can be extremely elegant while maintaining a touch of fun and above all never abandoning the joy of life that absolutely must take with us. It must be able to reflect on what we do in our lifestyle and what we wear, just like in this emblematic case.
At first fleeting glance, the word Happy, can bring back to mind something frivolous and ill-suited even for important occasions or gala evenings … Nothing could be more wrong. It 's the case in which the famous JewelryHouse Chopard perfectly combines the carefree with an extreme refinement, which reveals a deep-rooted exploding femininity and expresses itself in motion. The latter is the leitmotiv of this fantastic watch (more on that clock, let's talk about a real gem), which made it hugely popular house Chopard. The diamonds "dancing" are in fact the trademark of the house that offers them in many of its models, free to move within the quadrant. In this particular case the diamonds can move in a circle, as suspended between the two glasses sapphires (made ​​with a treatment that makes them particularly transparent), so as to release all their own light. The case is created using a wonderful play of transparency and the outer bezel, surrounded by two rows of diamonds, defines the timepiece adding an extra touch of sophistication to the whole. The small central dial, where stand the numbers 12 and 6, has the mother of pearl background, while all the central block of the watch is white gold (there is also a rose gold version) 18 ct, powered by a quartz movement. The strap of blue, satin polished, complete this particular timepiece / jewelry with a buckle, which is also defined by small diamonds.
For all those women who love fine jewelery applied to the art of watchmaking, it certainly becomes a reference model. Clock at the expense of the name, is proposed as a suitable model for the evenings most important, using the actual movement of diamonds as a factor of absolute surprise and refined elegance.
Recommended for those girls, full of zest for life, who love to dare by wearing accessories that go well beyond the simple "classical", to arrive at unexpected results but certainly admirable.
Roberto Ponte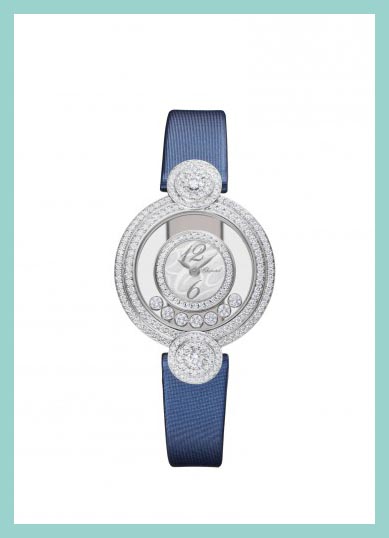 Photocredits: Chopard press office